Thermal Imaging and Microwave
Damage Assessment by Builders

Treatment Recommendations
Before you buy a new home...
Your conveyancer or solicitor will normally recommend that an inspection be made to determine the likelihood of timber pests being present within the building.
Inspectrite staff are properly qualified and insured timber pest inspectors, and we combine the latest diagnostic tools such as Fluke & Flir's microwave technology and Thermal Imaging to assist in making a thorough inspection of any building. 
Added to this, Inspectrite staff are experienced builders, who can offer expert advice on the extent and impact of any damage caused by timber pests.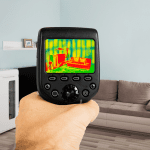 Thermal Imaging Included FREE
INSPECTRITE Inspectors use Thermal Imaging Equipment for every inspection we do. 
Don't Pay Extra Elsewhere!
The Power of Thermal Imaging
In recent years, thermal (or infra red) imaging has been adopted by innovative industry professionals to assist with building and pest diagnostic inspections. 
Thermal imaging can assist in finding areas of significant termite activity within hidden areas of any building, providing solid photographic evidence of infestation or activity without the need for destructive investigation.
But how does it "See" the Termites?
Termites have distinct body temperatures just like you and I, and when congregated in nests, the nest generally becomes the same temperature as the hundreds (or thousands) of termites inside, contrasting with surrounding temperatures. Thermal imaging cameras are very sensitive, detecting temperature differences of up to one fiftieth of a degree Celsius.
Fluke & Flir State of the Art Technology Used
Fluke & Flir devices are a breakthrough development in the detection of termites and use technology similar to radar. The instruments can precisely pinpoint the presence of termites through timber, plaster board, brick or masonry with no interference to the building material or termite activity. 
The units are actually extremely sensitive microwave motion detectors that can sense even the smallest movements behind heavy building materials including wall, floor and ceiling linings. 
Accurate Damage Assessment
One of the advantages of having INSPECTRITE conduct your inspections, is that we are properly experienced & insured to provide comment on structural damage caused by termites, as well as being able to recommend repair works and methodology.
Is the damage cosmetic or structural? Is it simply minor damage, or will it be difficult and costly to repair?
Ask an INSPECTRITE builder to inspect your home for peace of mind.